Women and girls with disability are more likely to experience violence New app helps them seek support
Sunny app image
Image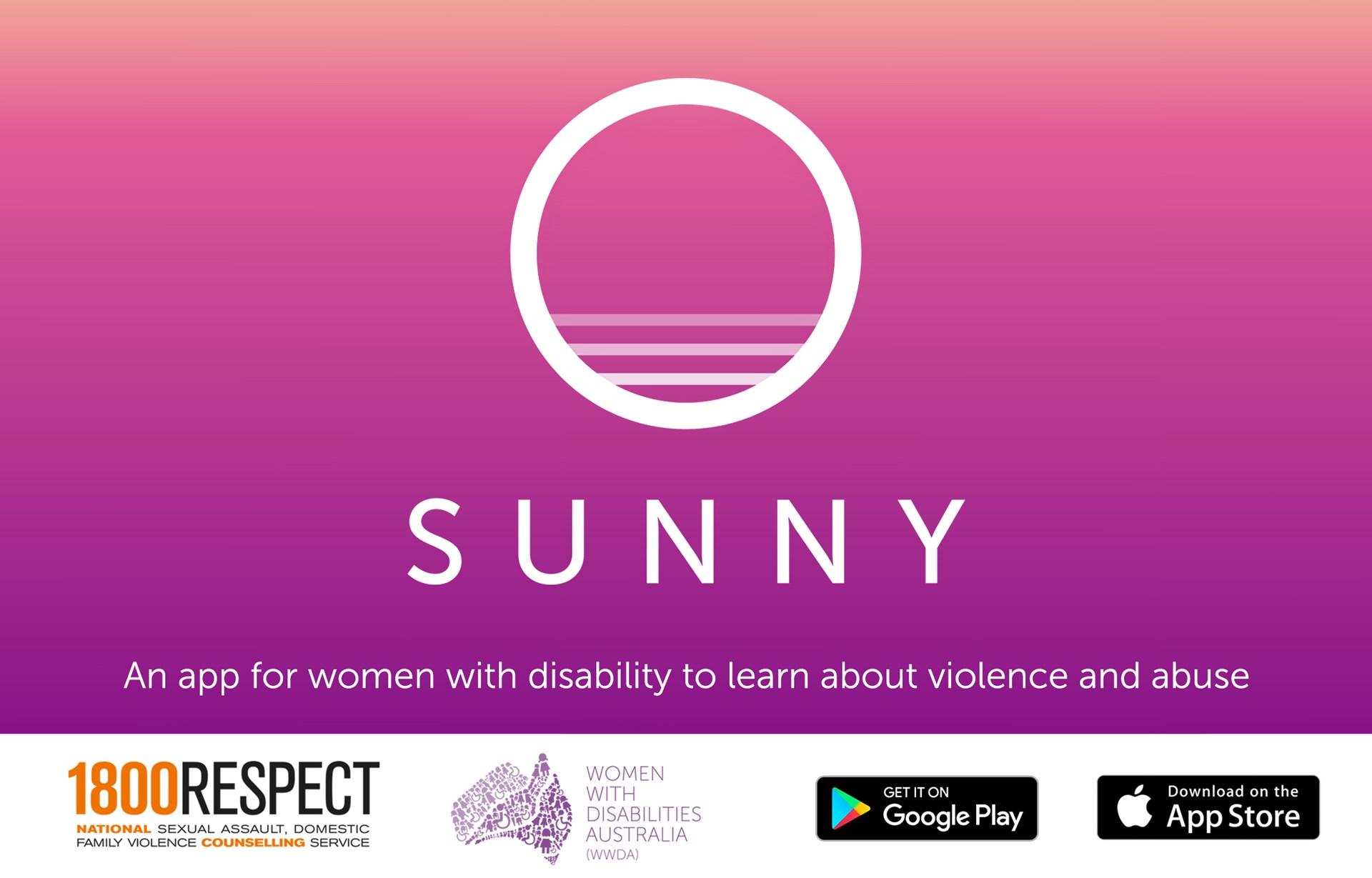 Women with disability impacted by sexual assault, domestic or family violence will have improved access to support with the launch of a ground breaking app today.
1800RESPECT, Women with Disabilities Australia and an expert advisory group of women with disability teamed up to develop the app, called Sunny.  Sunny will help women with disability learn about different types of violence, share their experience, know their rights and reach out for support.
Sunny was launched today in Canberra by Assistant Minister for Children and Families the Hon. Michelle Landry MP.
It is estimated there are more than 2 million women and girls with a disability in Australia.
The Sunny app includes easy English definitions of violence that guide users through scenarios to help them recognise abuse.  Sunny asks users questions including if someone has touched, hit or hurt them, used their money without permission, or given them too much medicine.  The questions are designed to support users' understanding of what violence is and what their rights are.
It also supports users taking action to ensure their own safety by giving them options to connect with a 1800RESPECT counsellor, the national relay service, or a translation and interpretation service.  If a Sunny user faces an emergency, the app will help the user call 000.
Sunny is designed to look like a sunrise app so that the app can be hidden from a person who uses violence.
1800RESPECT General Manager Nicole McMahon said that 1 in 5 women have experienced sexual violence and women and girls with disability are more likely to experience violence than their friends without disability.
"All women have the right to live safely.  Women with disability confront significantly more barriers when trying to access support," Ms McMahon said.  
"Sunny uses innovative technology to overcome some of those barriers.
"Existing resources supporting women are not tailored to those with disability and particularly intellectual disability.  The lack of tailored resources constrains their capacity to safely and effectively engage with services and support," said Ms McMahon.
Expert advisory group member and disability advocate Angela Barker said the women engaged to design Sunny have different disabilities, different life experiences and some had lived experience of violence.
"We worked on all aspects of designing Sunny including the support it provides, the words it uses, and how it looks.  We chose the name Sunny because it is hopeful," Ms Barker said.
"Including the ideas and voices of women with disability in the creation of the app has been empowering as we often face significant barriers to seeking help, including reliance on an abuser, fear and service gaps in disability and women's agencies.
"Like many women who are abused, women with disability are usually abused by someone they know, which makes them feel more isolated and less able to report the abuse," Ms Barker.
In 2016, 1800RESPECT partnered with Women with Disabilities Australia to make the service more accessible to women with disability. Both organisations agreed there was a vital need for a digital tool like Sunny.
Women's support organisations WWILD, Speak Out Australia and WESNET also collaborated with 1800RESPECT to develop Sunny.
The Sunny app is free and available now on iPhone and Android.
In coming months, 1800RESPECT will be visiting locations all around Australia to hear from women with disability and community support services - visiting Hobart, Burnie, Launceston, Bendigo, Melbourne, Adelaide, Port Augusta, Port Pierre, Perth, Bunbury, Broome, Darwin, Alice Springs, Tennant Creek, Cairns, Townsville, Brisbane, Sydney, Moree, Tamworth, and Canberra.
1800RESPECT is delivered by Medibank on behalf of the Federal Government as part of the National Plan to Reduce Violence against Women and their Children 2010-2022.
If you or someone you know is impacted by sexual assault, domestic or family violence, call 1800RESPECT on 1800 737 732 or visit 1800RESPECT.org.au.  In an emergency, call 000.
Download now from the App Store
Media enquiries
Sacha Fenton on 0467 784 528 / sacha.fenton@medibank.com.au